The Geelong 32-year-old became a quadriplegic in 2009 after a pool accident while on holidays in Bali.
Since then, she's become a model, motivational speaker, founder of a spinal cord injury recovery centre and is now a gardener too.
We spoke with Rhiannon about her newfound passion, the physical and mental health benefits she's found, plus the one thing that's made her garden (mostly) puppy-proof.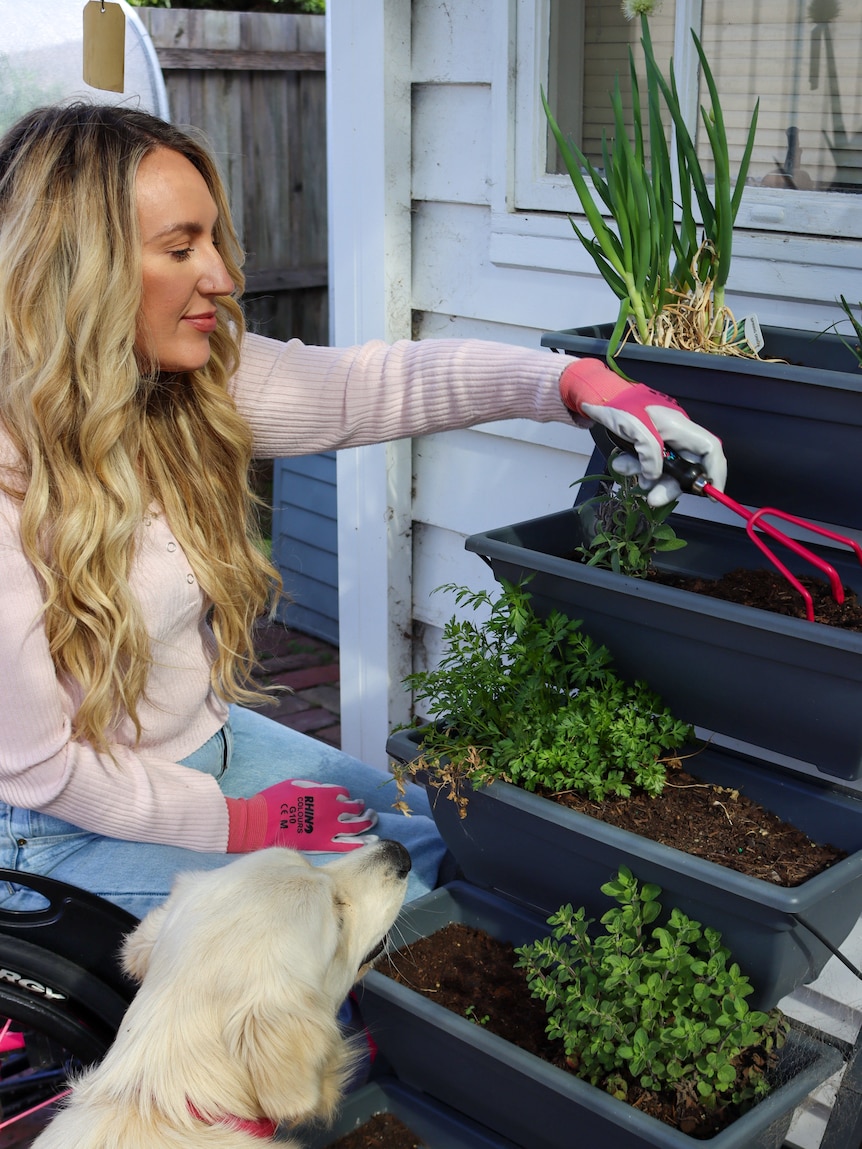 What types of garden beds have you found best for wheelchair accessibility?
I don't think I'd ever be able to grow in your standard garden bed because trying to bend over from a wheelchair is very painful and annoying.
Obviously, I can't get down on my hands and knees to plant and pick either.
So, I did a lot of research, searching for something that would be wheelchair friendly.
Raised wicking beds turned out to be an absolute godsend and vertical garden beds have been my best friends too.
The wicking bed I chose is on a trolley, which makes it even more accessible as I'm able to move it around the backyard. Anything on wheels is a bonus when you're on wheels. Plus, I'm renting, so I can take it wherever I go.
It's completely wheelchair height, so that's amazing for me but it also makes sense for an able-bodied person, as there's no bending down or struggle to access your food.
I'm waiting for another raised bed to arrive, then I'll have three. I absolutely love them.
The vertical garden beds are wall-mounted to the house, with different shelves on tiers. They're amazing to grow herbs in. And again, height-wise, for accessibility for me or anybody else in a chair, it's super easy.
What veggies and herbs are you growing?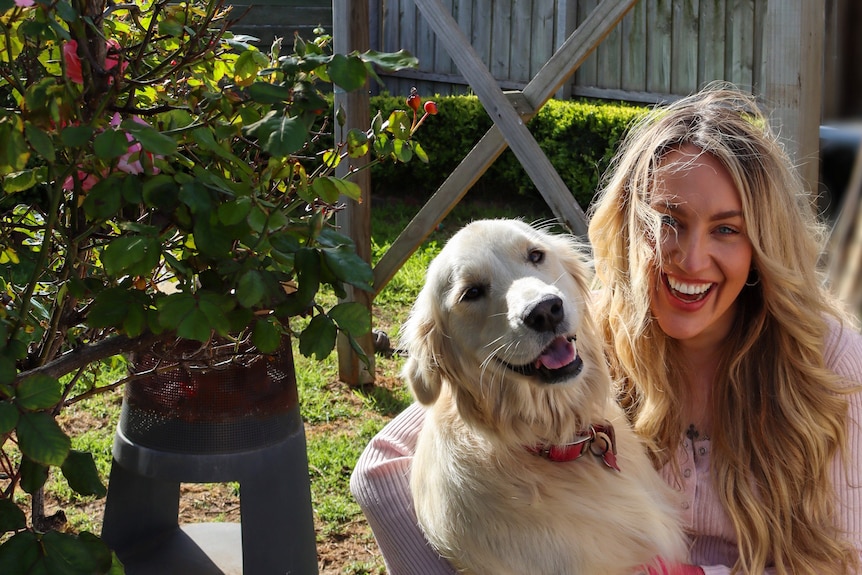 At the moment I've got snow peas, broccoli, celery and lots of spinach because I throw spinach into my smoothies and pretty much all my cooking. I'm about to add potatoes, carrots, pumpkins.
The raised beds are enclosed with a cover, so it's all completely protected from insects — and golden retrievers! I have a nearly two-year-old puppy, so if I put anything on the ground, he's guaranteed to eat it.
Then in the vertical beds I've got my cooking herbs; basil, parsley, oregano.
I've also just realised I've got a massive ginger root ready to go. It's so fun when things start growing — so much life!
You're now launching a gardening program at your spinal injury recovery centre?
We're about to incorporate raised veggie gardens because we focus on education around nutrition.
We want our athletes – that's what we call our clients – to be able to plant and grow the foods they would eat.
And from an occupational therapy point of view, it offers different ways to use your hands too.
I'm a quadriplegic, technically – even though I guess I translate as paraplegic – so my dexterity in my hands is quite crap.
It's been good to use my hands in different ways; holding gardening tools and things like that. Because, you know the old saying, "If you don't use it, you lose it".
Are you noticing other benefits from gardening?
Gardening is like a different kind of therapy – and don't underestimate how beneficial it is mentally too. 
I've got processes in the morning that I follow for my own mental and physical health. A non-negotiable for me now is making my bed and watering my garden. So that sets me up for accomplishment straight up in the morning.
Plus, it gets you outside. I think people underestimate how valuable that is.
Any tips for folks new to gardening?
Make sure you are thinking about what you would use. That was one of the biggest mistakes I made at the start because I was like: "Oh, I'll plant this just because it looks pretty".
Take into consideration your climate, what you eat often and how committed you're going to be.
But really, as soon as you start to harvest things, you're going to be so excited – and want to plant more.
Koren Helbig is a storyteller who practices permaculture and grows organic food in the backyard of her small urban Tarntanya (Adelaide) home.
Article written by Koren Helbig for ABC Everyday