If you have a gypsy spirit in you, then these
bohemian living rooms
will surely inspire you.
Bohemian decorating
is not for the faint of heart. With lots of bright colours, natural textiles and eclectic charms, Boho style decor is popular among people who consider themselves a free spirit.
Bohemian Living Rooms
So, what are the best bohemian living room decor ideas? Getting the boho look in your living room isn't too complicated and we are going to share the top trends with you here.
The living room is an important place for your friends and family to gather. It should be practical but also reflect your taste and personality.
These are our favourite bohemian living room designs and decor ideas to get you started on creating the boho family room of your dreams!
1. Woven Wall Baskets
Woven wall baskets in jute and sisal are popular Bohemian wall decorations in the living space. The house plants and exotic textured throw pillows give nice Boho touches to this living room. A circular jute rug and dark wood mid-century coffee table balance out this colourful space with neutral tones.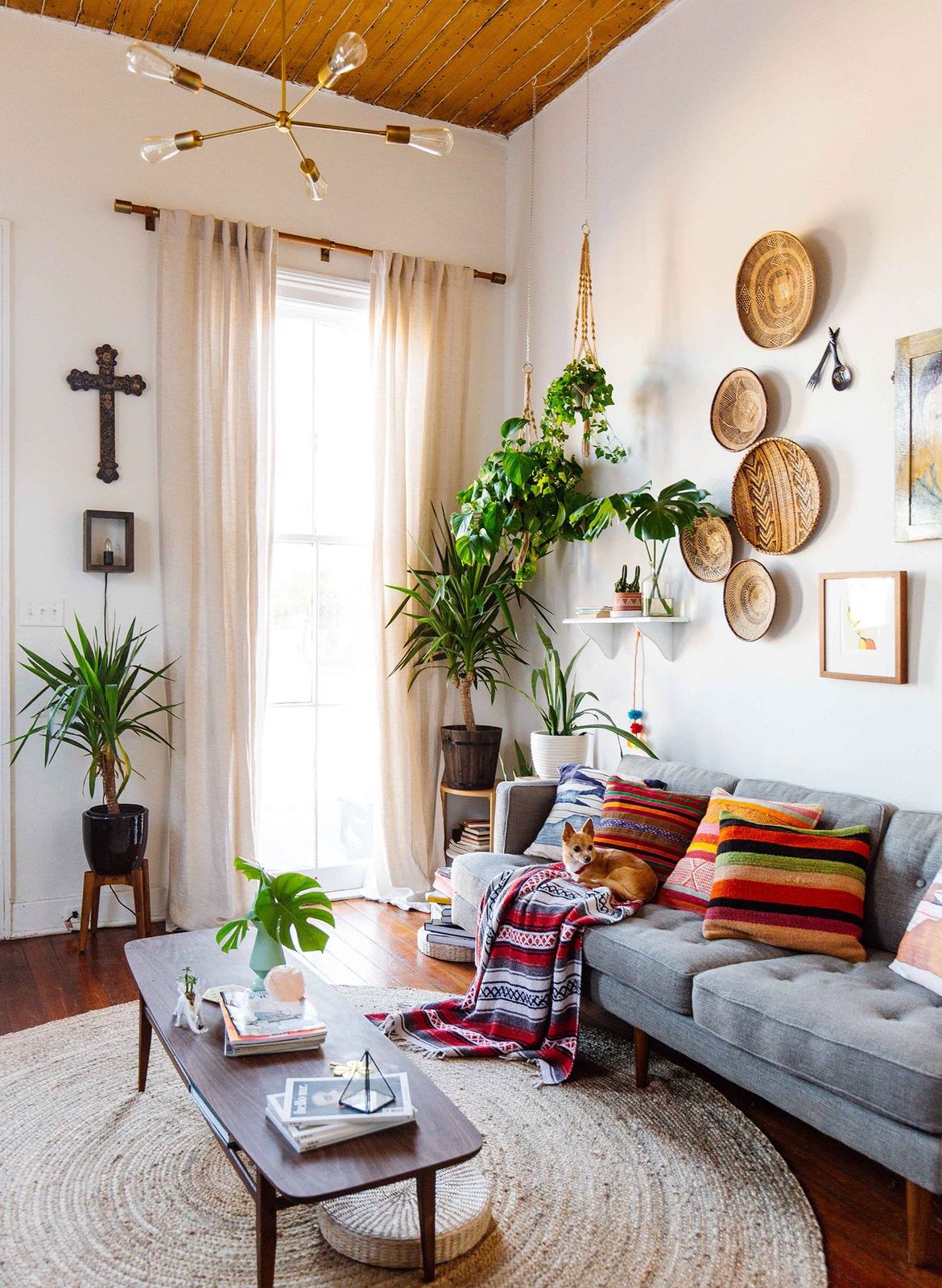 2. Burnt Orange Velvet Sofa
A burnt orange sofa in a comfortable upholstery like the one below gives warmth to this boho living room space. There are plenty of house plants scattered around, and an art decor mirror on the back wall. Several pieces of rattan furniture make the space tropical. There is a rattan side table with a glass top, a round rattan coffee table, a small rattan ottoman, and a rattan accent chair. Having plenty of seating for hosting guests is a must-know bohemian living room decor idea!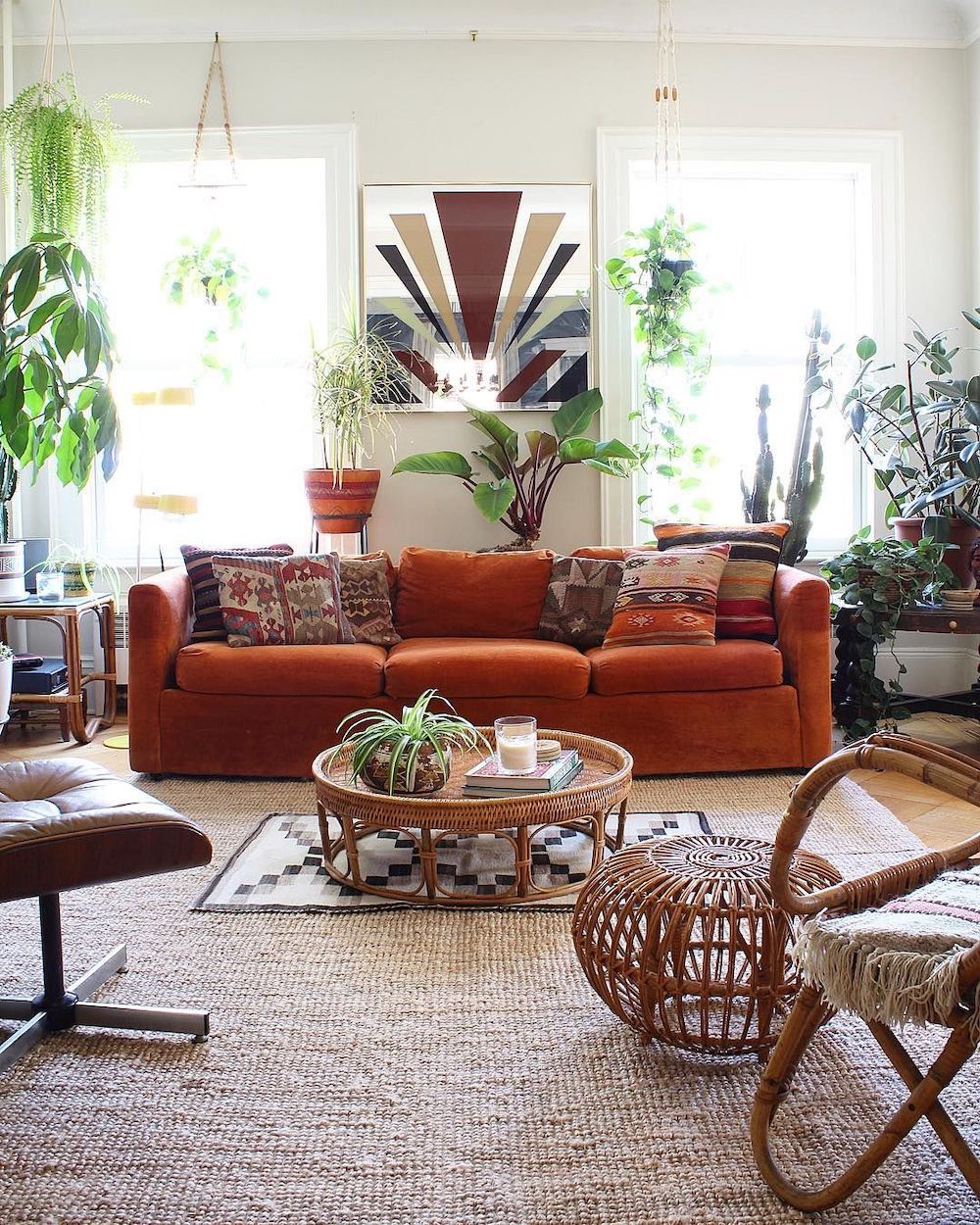 3. Vinyl Records and Floor Pillows
Boho decor is great for incorporating vintage decorations like the vinyl records below. Display some floor pillows on the ground so you can sit comfortably as you browse your collection! As always, you can never have too many house plants and tropical indoor trees. This is one of the boho living room ideas that works well for a young person.
4. Swing and String Lights
From the free floating wood swing with a shag fur seat to the string lights hanging from the ceiling, this living room has so many interesting boho elements to it. A wall full of bookshelves is adjacent to a brick wall with two large windows. Two large comfortable brown leather accent chairs create an intimate space for chatting. Two guitars sit nearby making this a musical wonderland.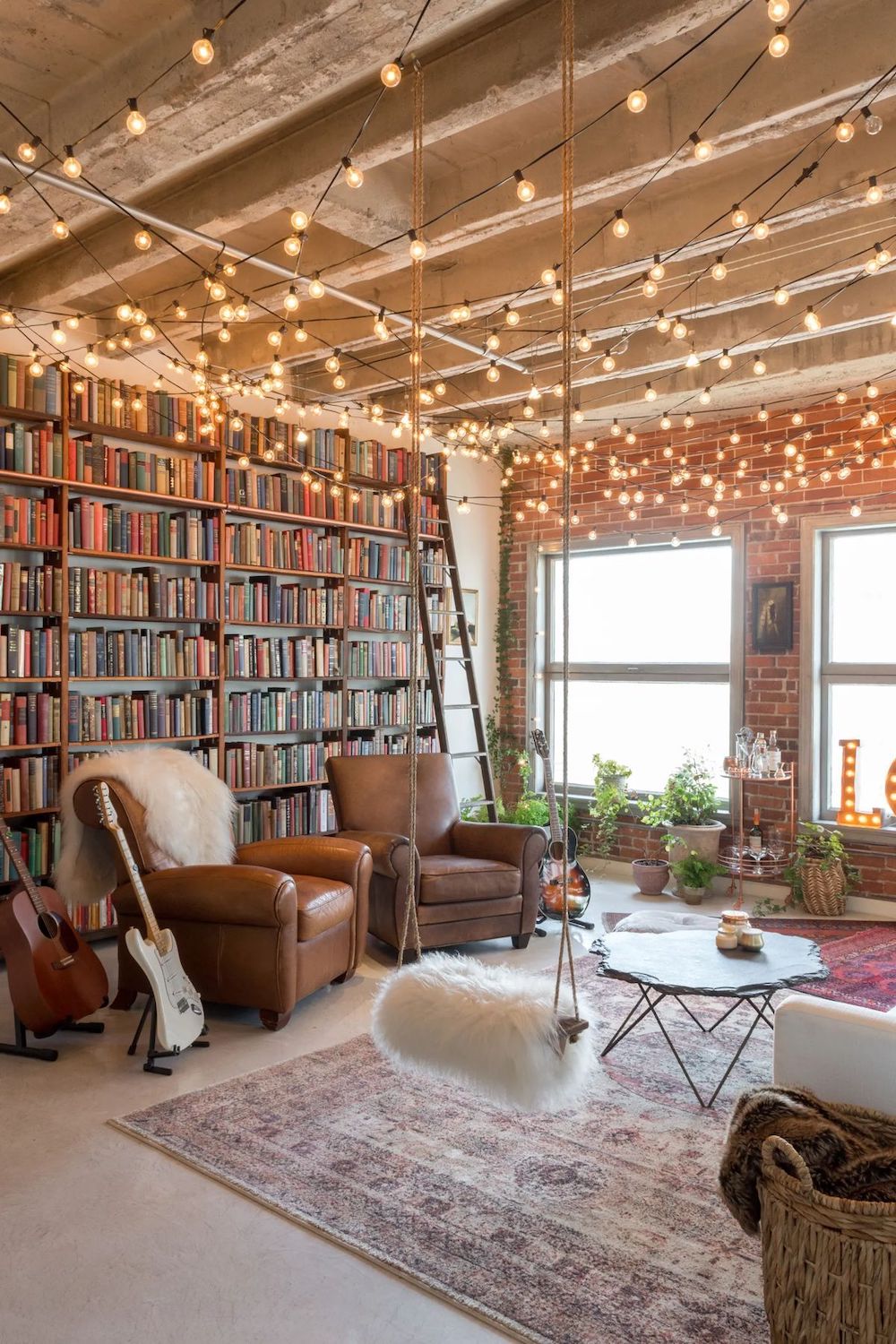 5. Textured Colourful Throw Pillows
Botanical artwork, exotic throw pillows, and a rattan accent chair complete this very modern boho chic living room. The pink and green colour theme gives this space a tropical, feminine vibe. The simple beige sofa helps to balance out the colours. A brass floor lamp adds extra light when needed.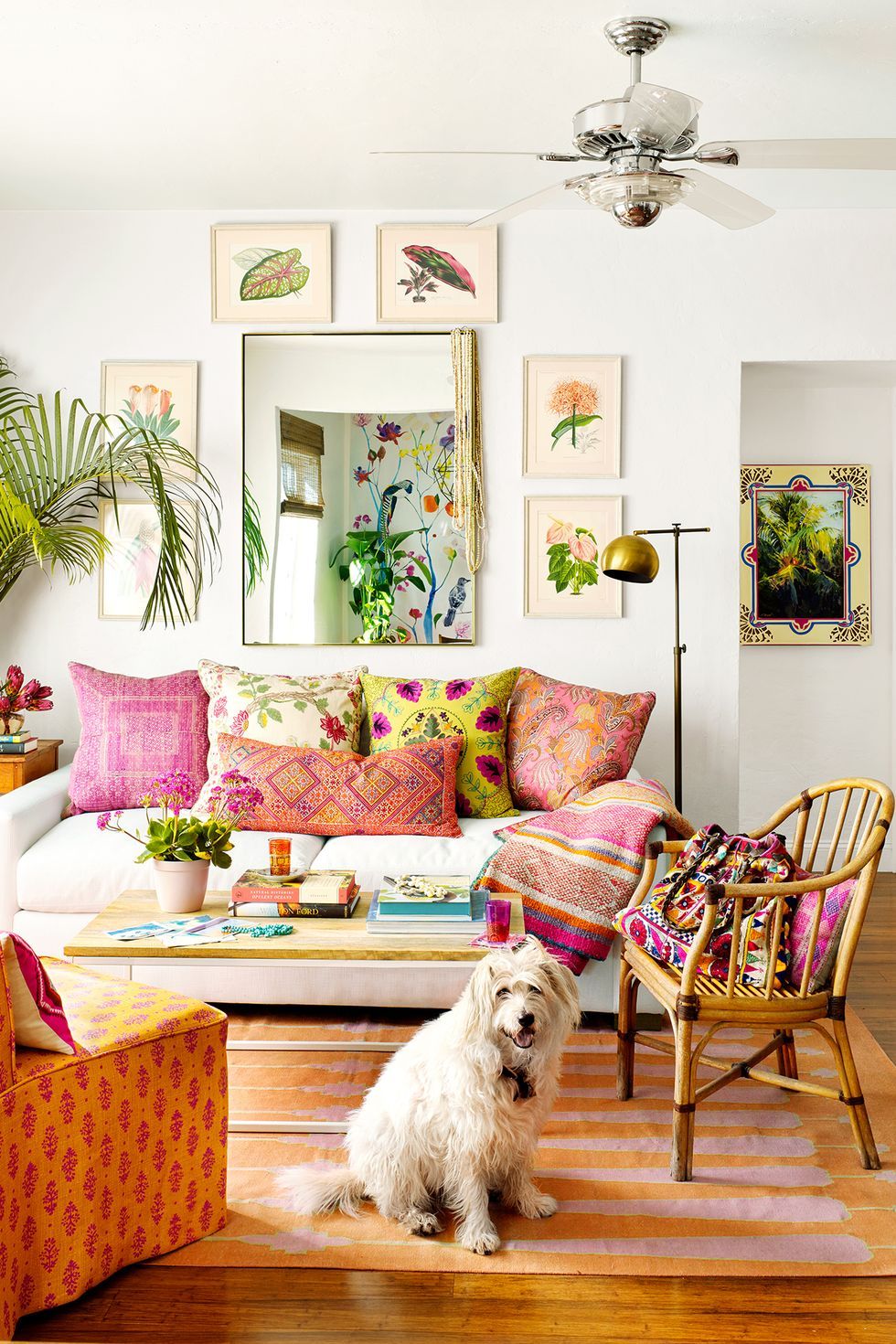 6. Earth Tones like Green, Brown, and Orange
Earthy tones like green, brown and orange are wonderful for creating a relaxing Boho living room environment at home. You can play with mixing different patterns too as seen here by the patterned curtains and diamond motif rug. Mix it up.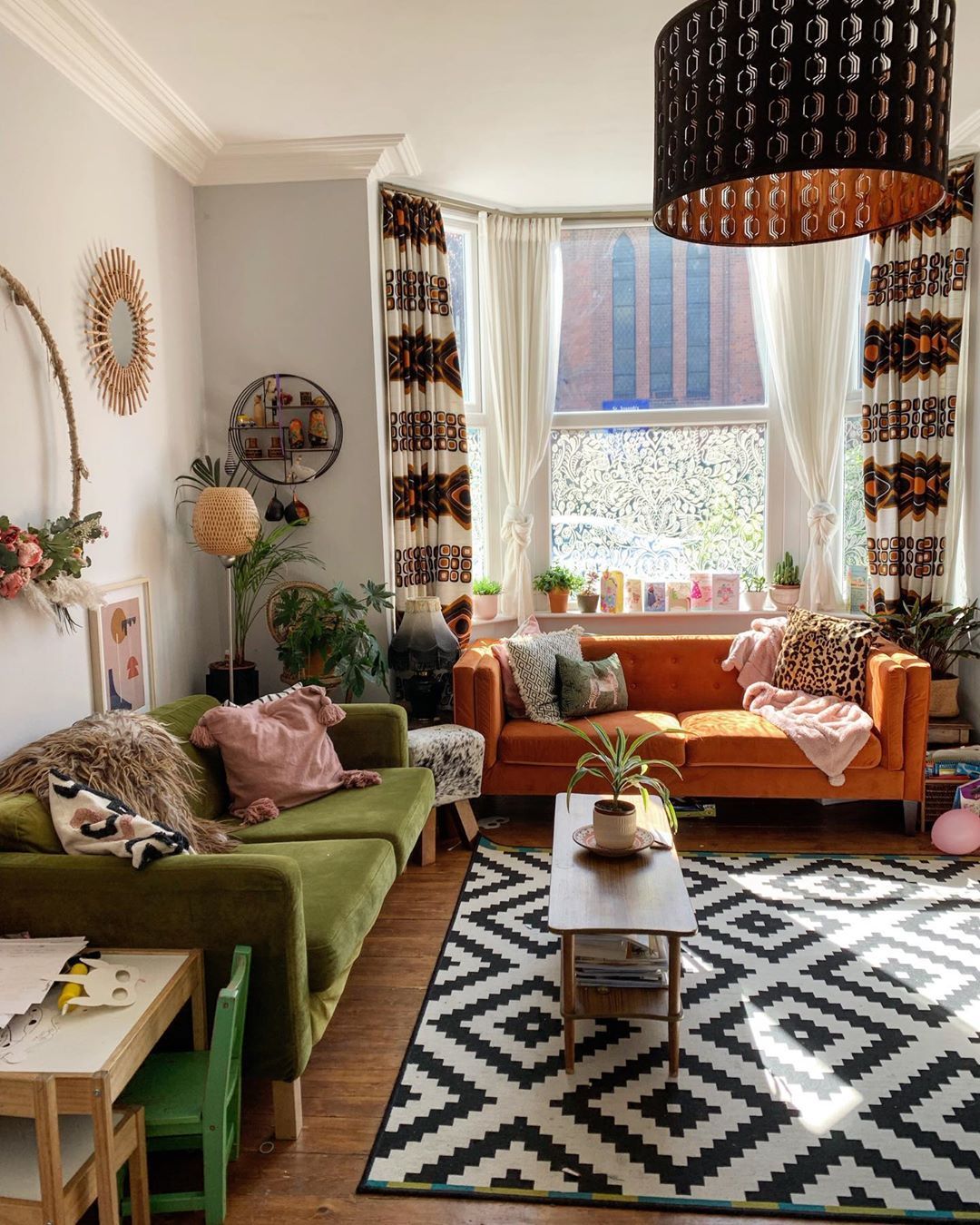 7. Indoor House Plants
You can never have too many indoor house plants inside your boho home! There are plants and house trees covering just about every corner in this boho living room! A beige sectional sofa sits in the centre, with a rattan bench used as a coffee table for holding even more potted plants.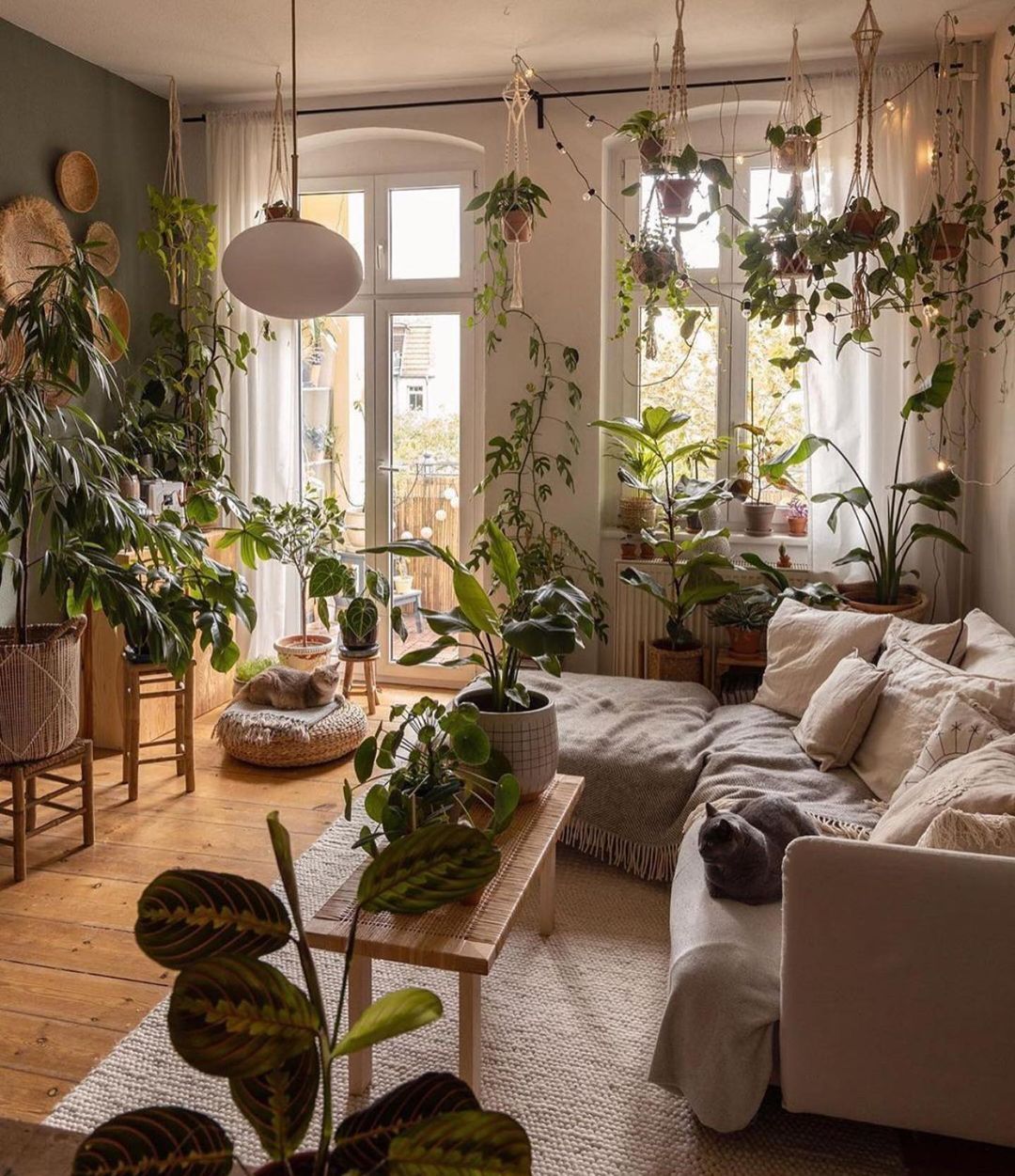 8. Macramé Wall Decor
Macramé is a very popular wall decorating style for boho interior design. You can find these decorations from a wide variety of handmade shops and boho retailers. This mid-century bohemian living room has a blue tufted velvet sofa, two brown leather accent chairs and two brown leather ottoman poofs.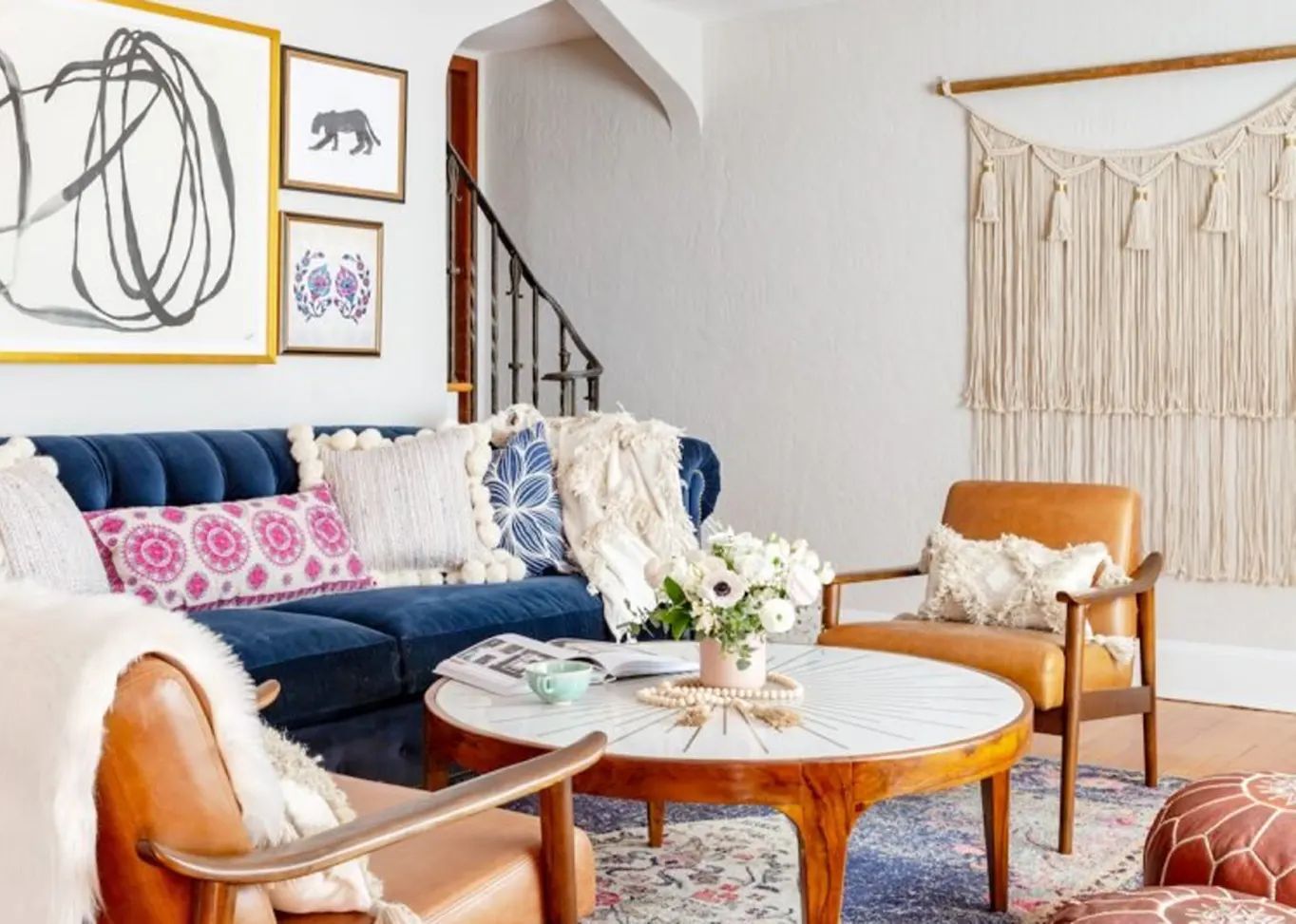 9. Hanging Bed
If you can install a hanging bed, swingasan or other hanging chair, that will give your space a very Bohemian vibe! This is such a dreamy boho space… I can totally imagine myself spacing out reading an interesting book on this large hanging bed!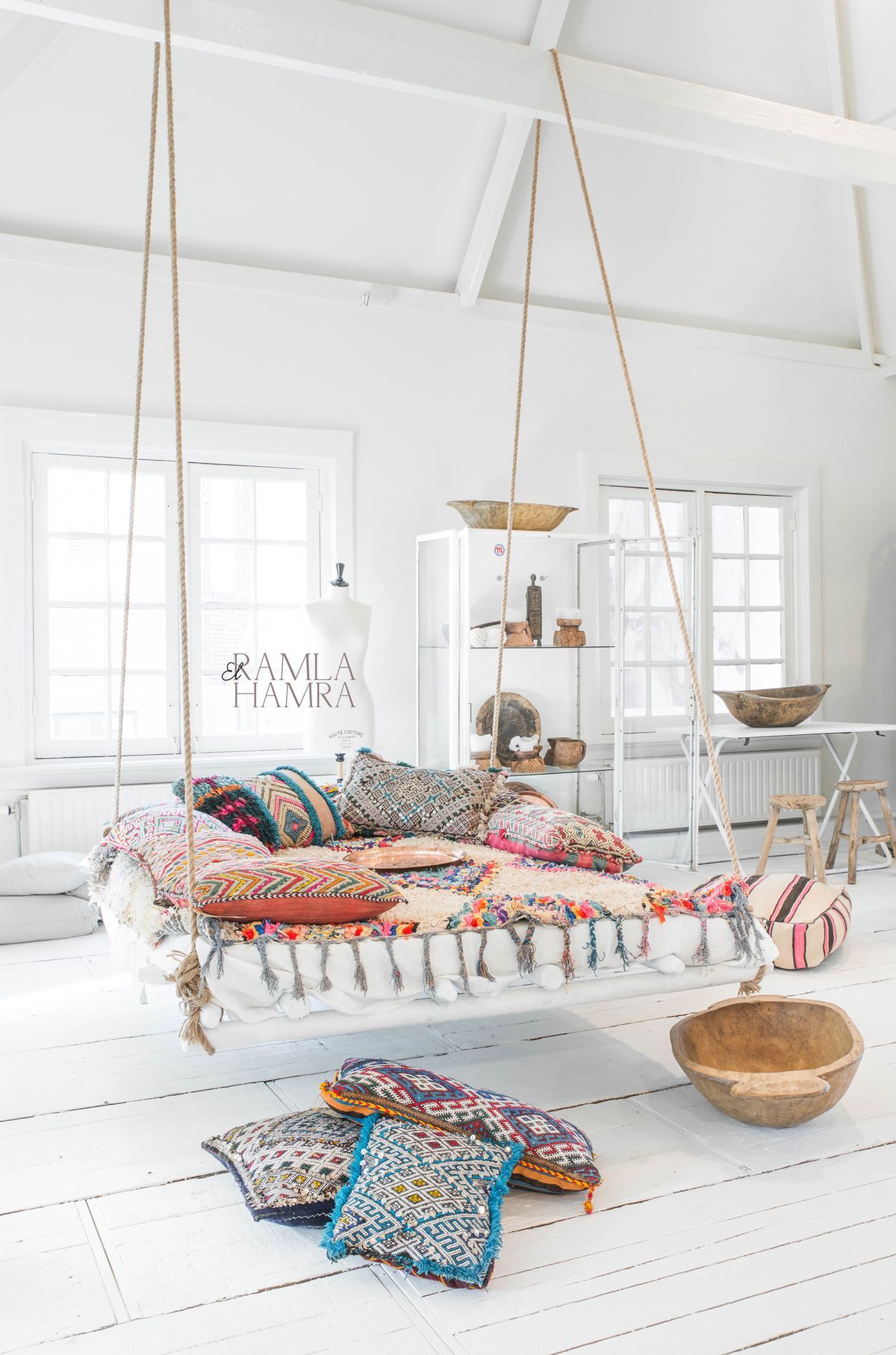 10. Green Velvet Sofa
Green is the color of nature and so it makes sense that Bohemian living rooms would have lots of green furniture like a luscious green velvet sofa as seen here. It is paired with neutral decorations like a beige Beni Ourain rug, bamboo coffee table, and rattan egg chair. I am so envious of this space!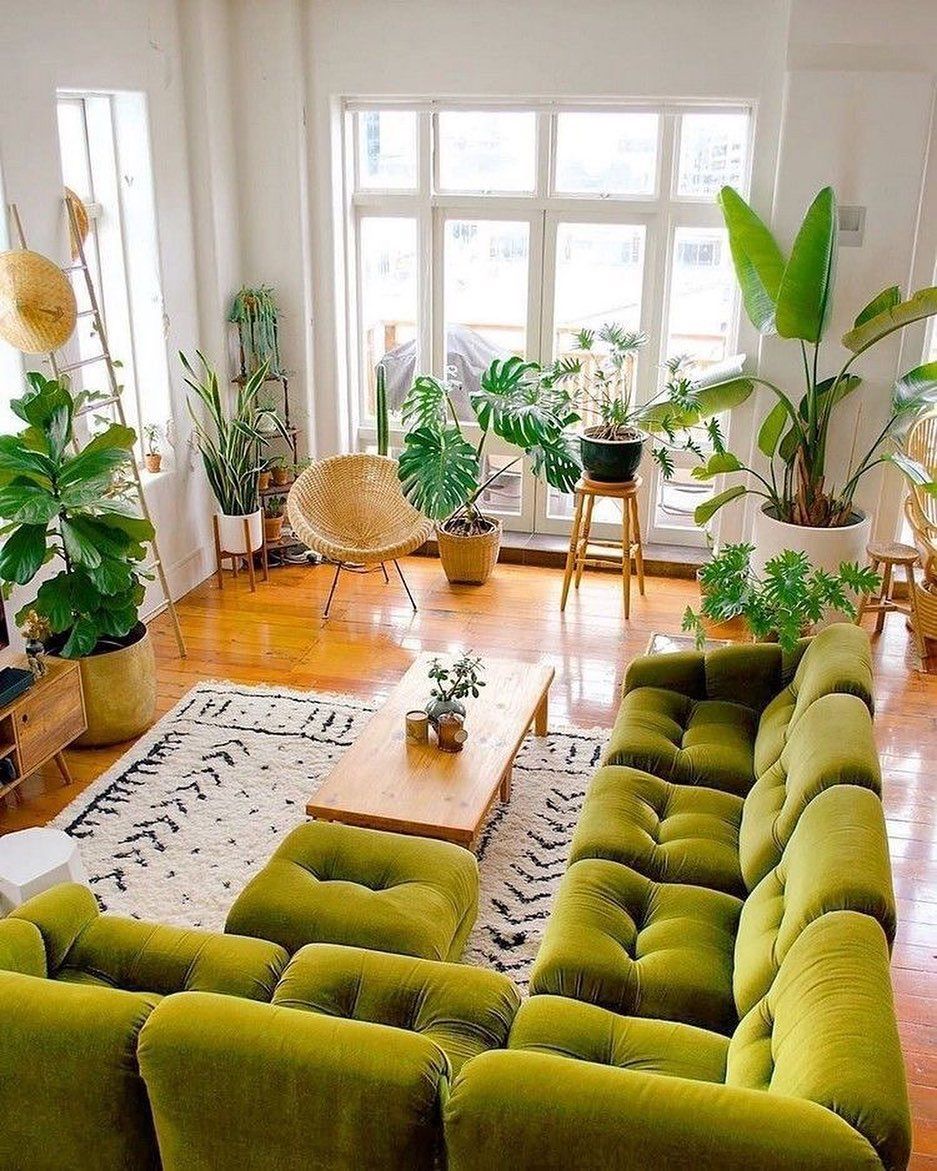 11. Rattan Hanging Swing Chair
Another win for the hanging swing chair! This cocoon chair is made of beautiful rattan. It looks great in this living room with a beige sectional, mango wood coffee table, patterned rug, and pink textile floor cushion. A little cactus and abstract art make for great decorations. This is definitely one of our more exotic bohemian living room decor ideas!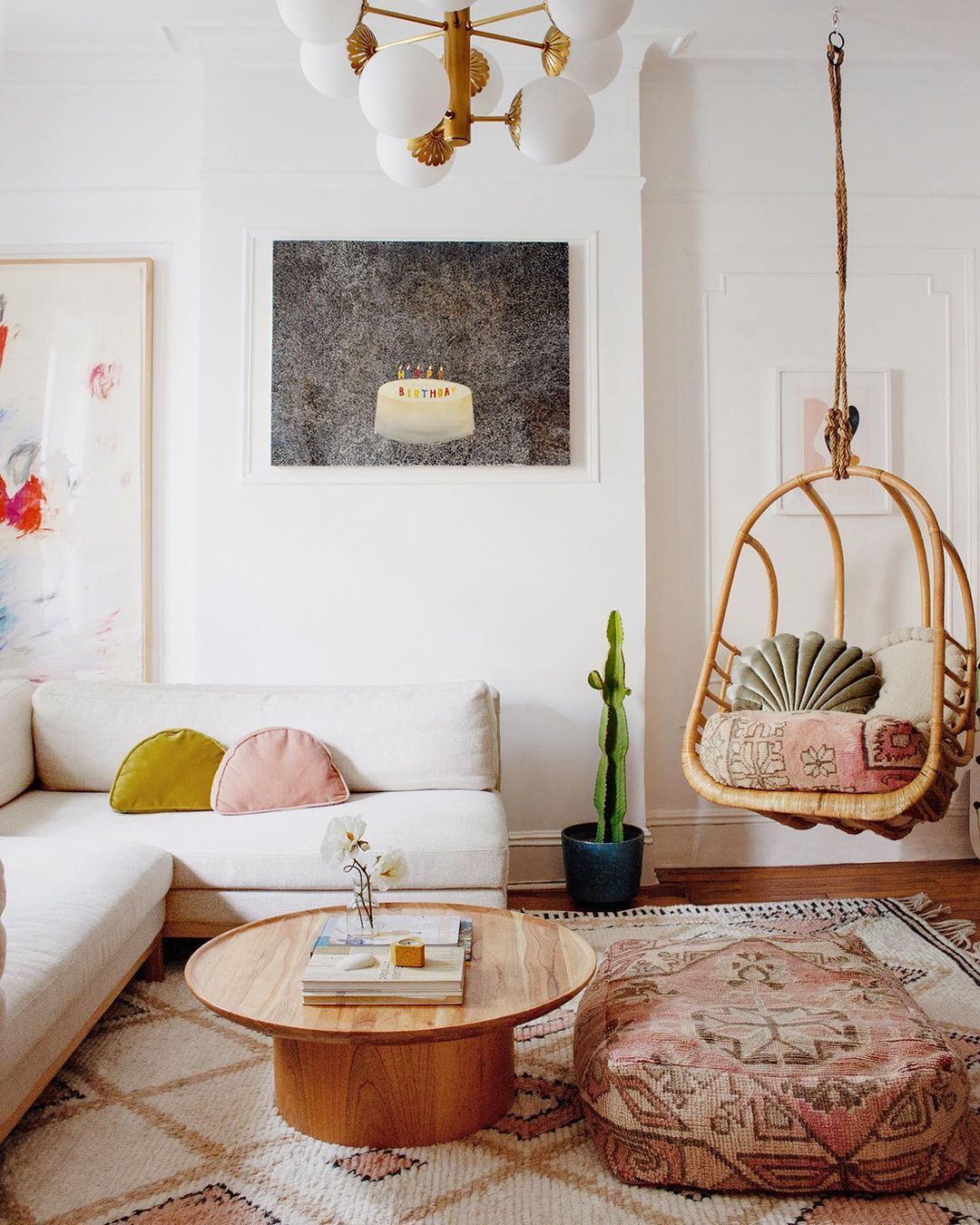 12. Wood TV Stand
Bohemian interiors sometimes have mid-century modern influences like this warm wood TV stand in the living room. It is flanked on either sides by beautiful green plants and sits below a gallery wall of Bohemian artwork. This is one of the more tech-friendly boho living room ideas we have!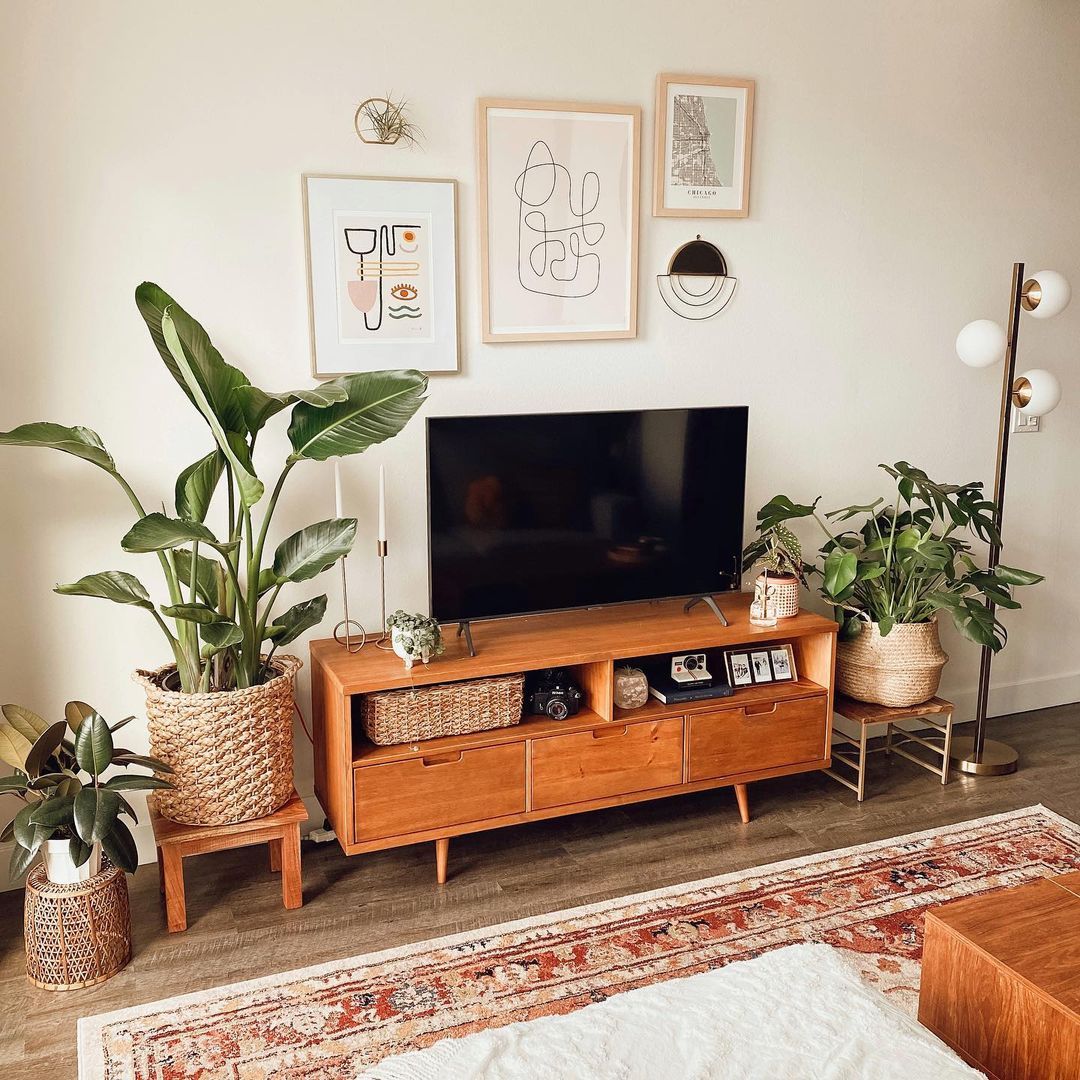 13. Oriental Vintage Rug
Oriental rugs and vintage rugs are often found on the floors of Boho homes. This one is paired with a muted yellow boho sofa, a group of colourful textile throw pillows, a vintage fringe table lamp, and a handful of house plants. I love how dreamy this bohemian living room decor looks!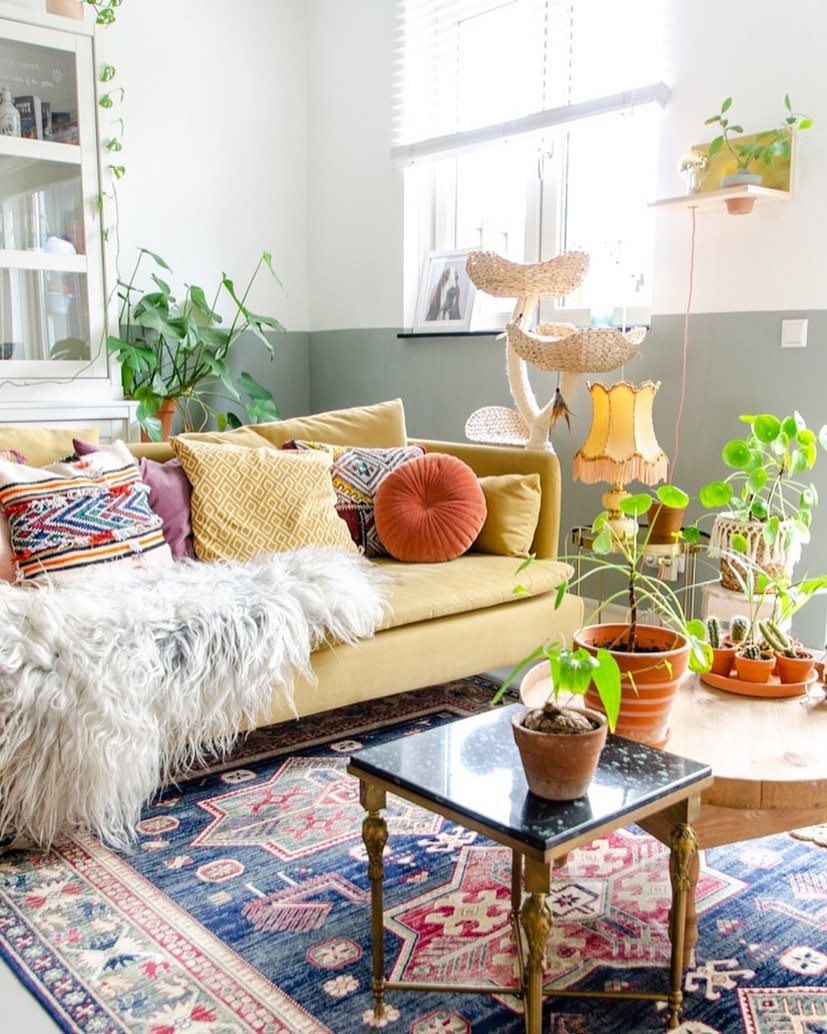 14. Boho Artwork
When it comes to Boho artwork for the walls of your living room, go with something that depicts nature, plants, flowers, or people. You could also go abstract according to your colour theme. This living room art illustration features a pretty woman sitting down surrounded by several house plants in pots. The art hangs above a simple 3-seat beige sofa with orange and terracotta pillows. A grey area rug and brown coffee table keep this boho space neutral and warm.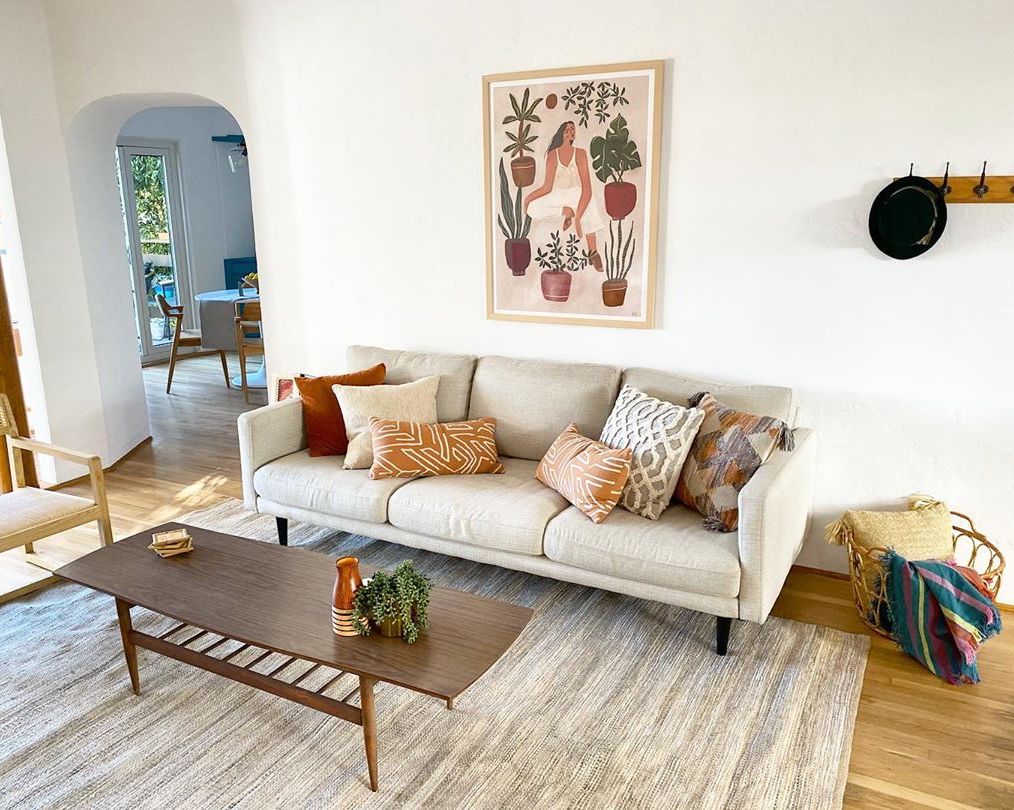 15. Moroccan Rug
This tropical boho living room features an exotic rug in the Moroccan style. A white sectional sofa and a brown wood coffee table sit nearby. House plants hang from the ceiling in several places. Sheer white curtains are used on the windows to filter the light.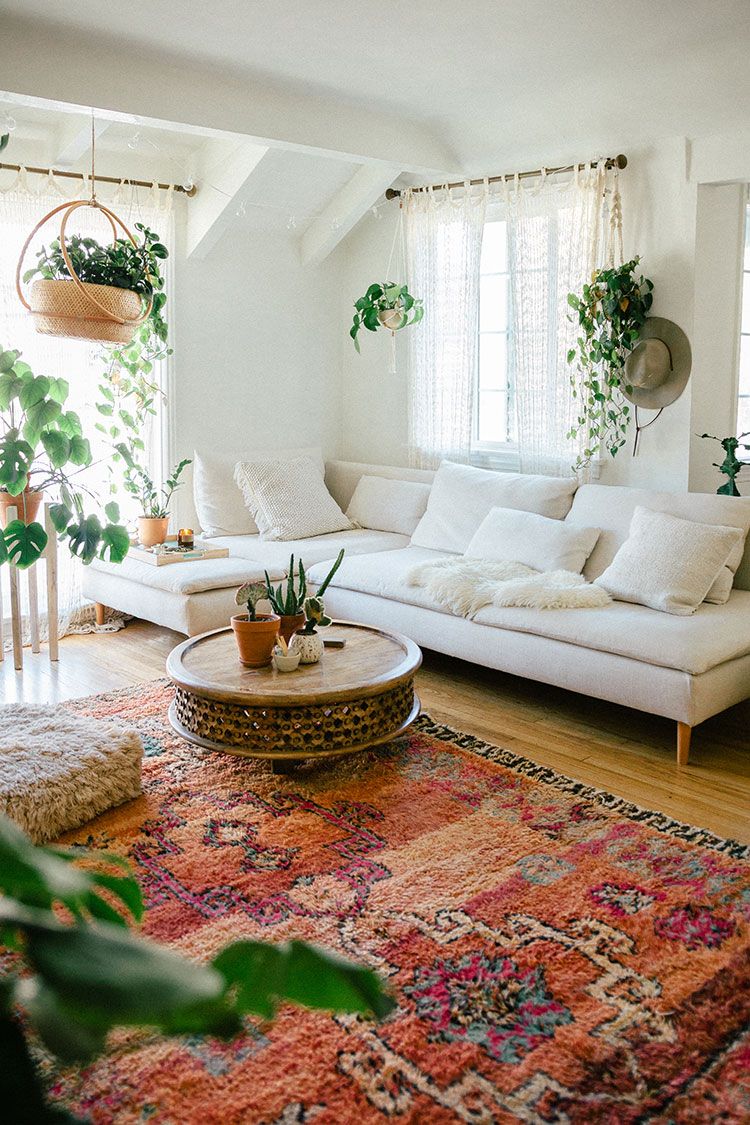 16. Rattan Accent Chair
Rattan chairs and other furniture are commonly found in Bohemian living spaces. Here is a beautiful rattan flower chair! A pink sofa sits nearby making this one of the more feminine boho living room ideas we've shared so far.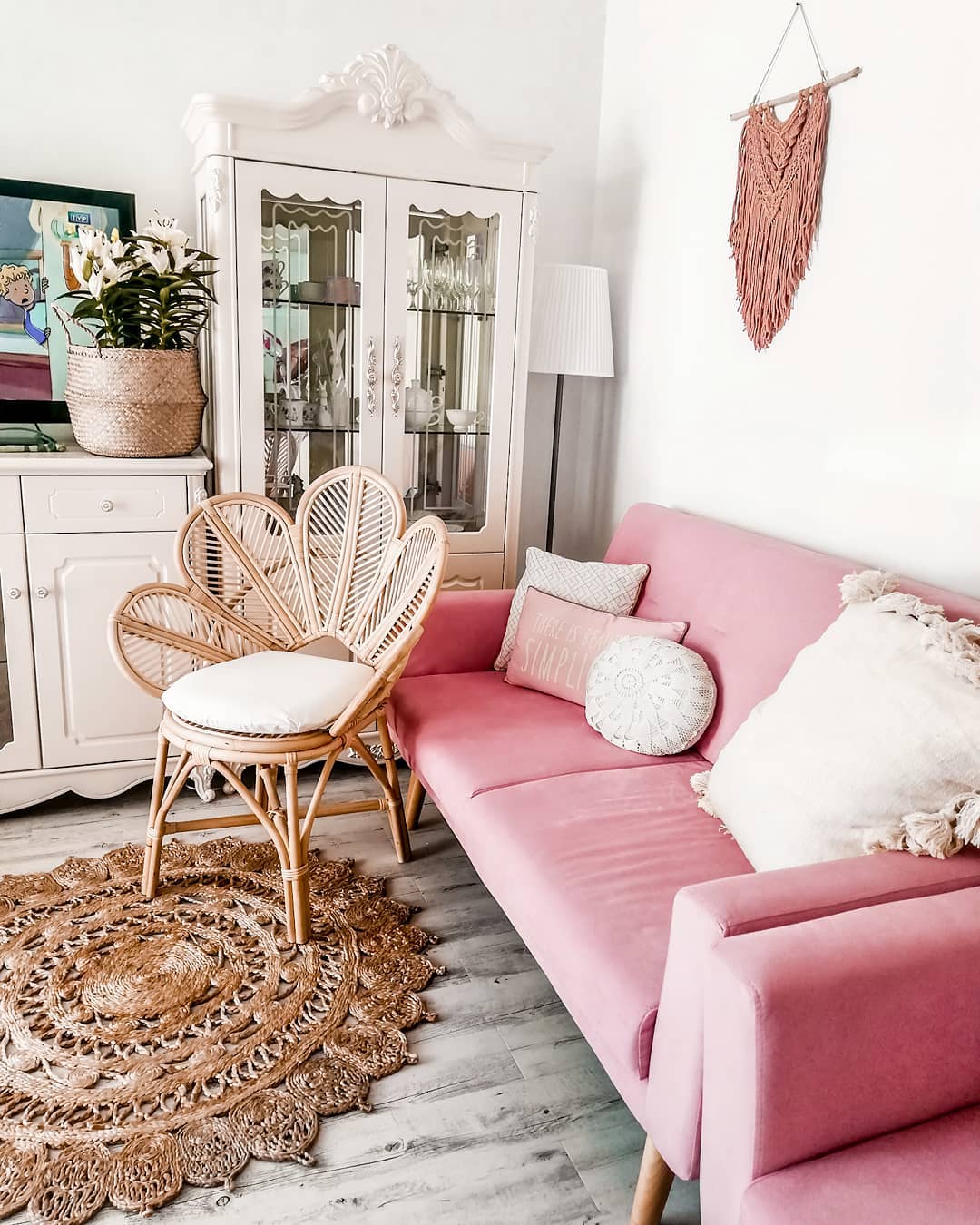 17. Natural Wood Furniture
Many bohemian living room decor ideas involve natural elements, so you should opt for natural wood furniture when it comes to your home. Pair warm wood tones with grey or white decor and create a calming oasis at home.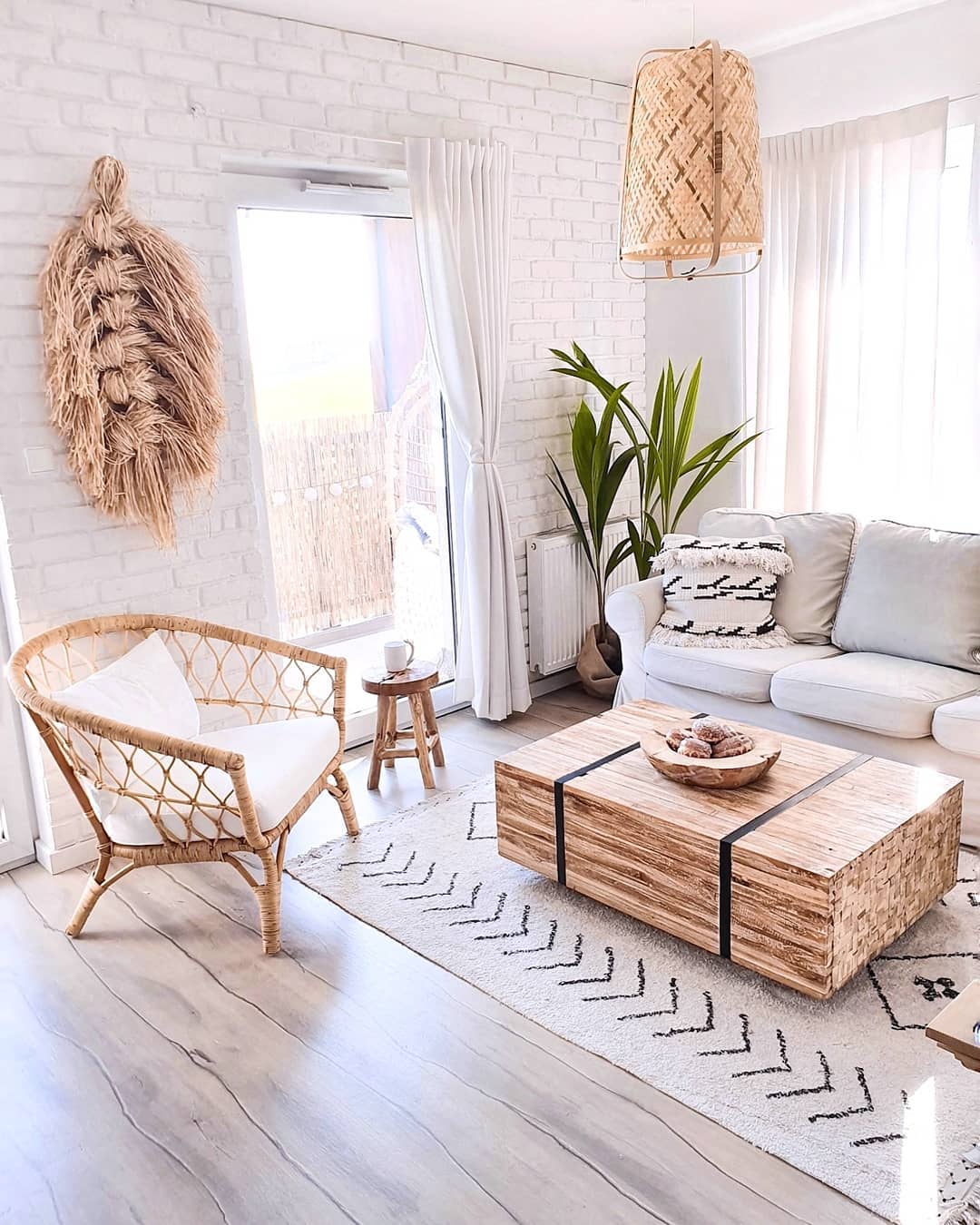 18. Brown Leather Sofa
A brown leather sofa can warm up any room and create a cozy atmosphere for your Bohemian den. Brass sconces and a brass mirror are hung on the wall.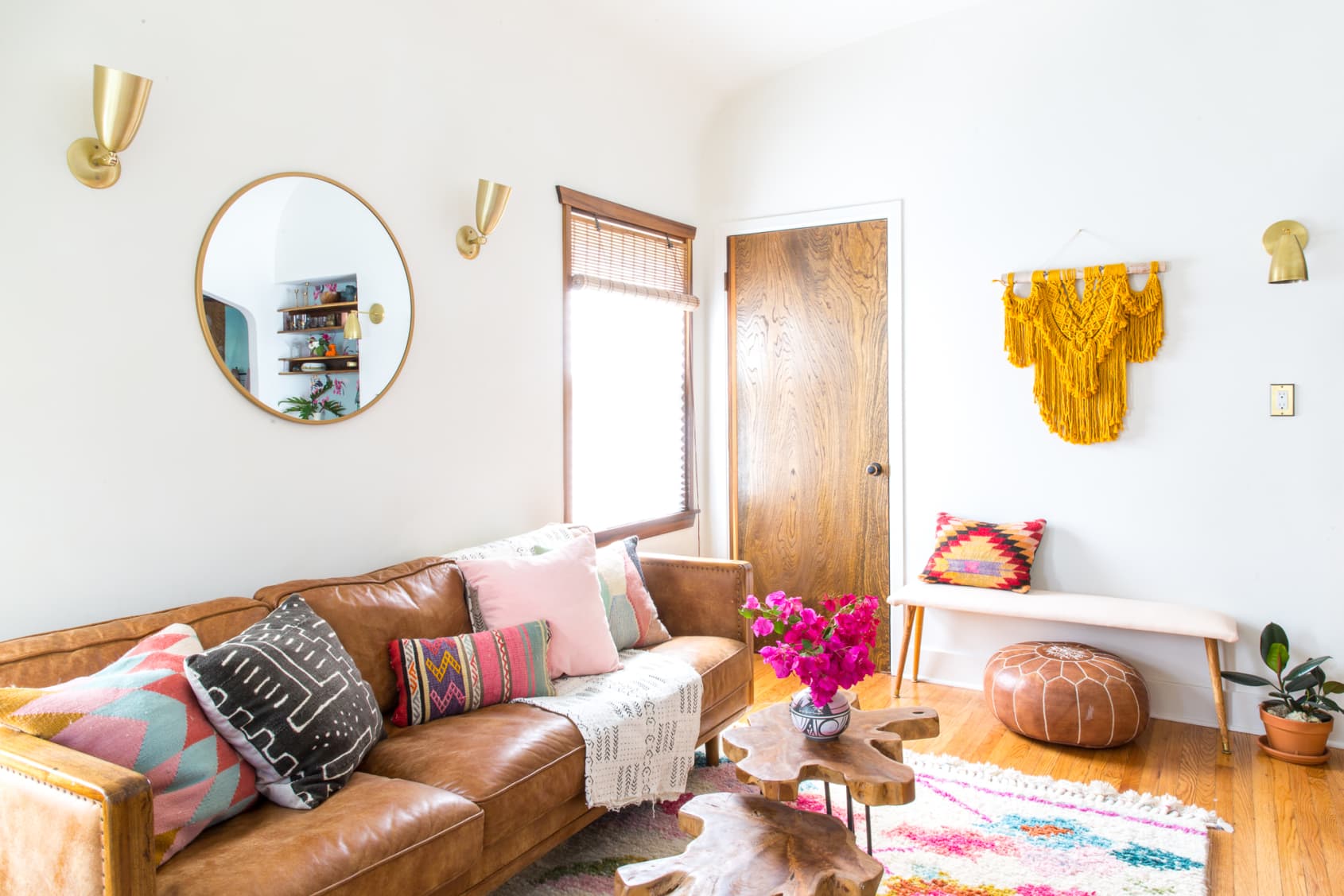 19. Copper Garden Stool
A garden stool can help provide extra seating in your Boho living room or it can serve as a mini side table.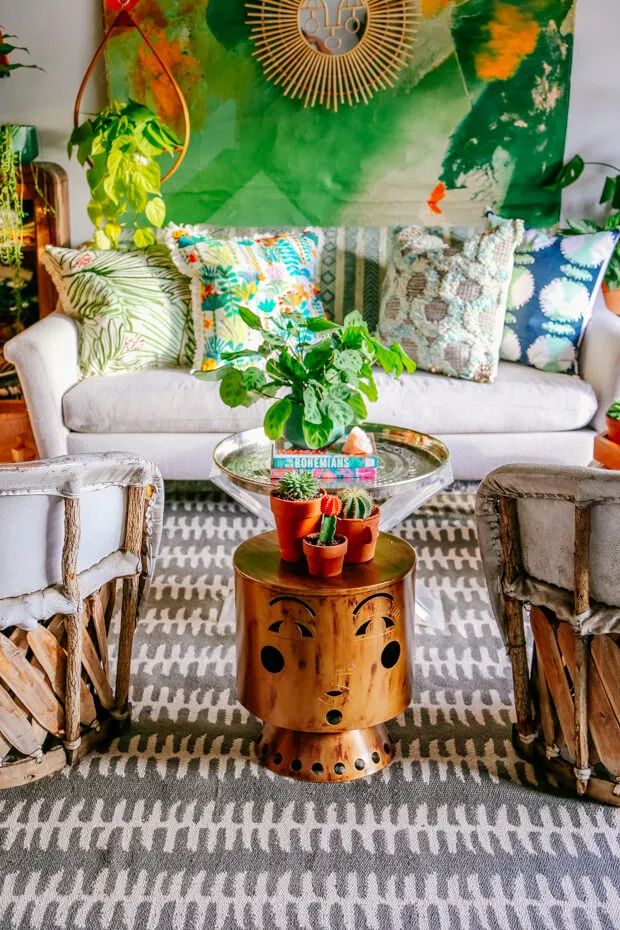 20. Colourful Throw Blankets
Boho decor often has many bright colours associated, as seen here by the many colourful throw blankets resting on the chairs and on the sofa. This room is filled with many boho living room ideas you can steal. For example, you can go bold with a bright green front door to really make a statement. You can add woven wall baskets to one wall, hang colourful wall art, and display personal effects.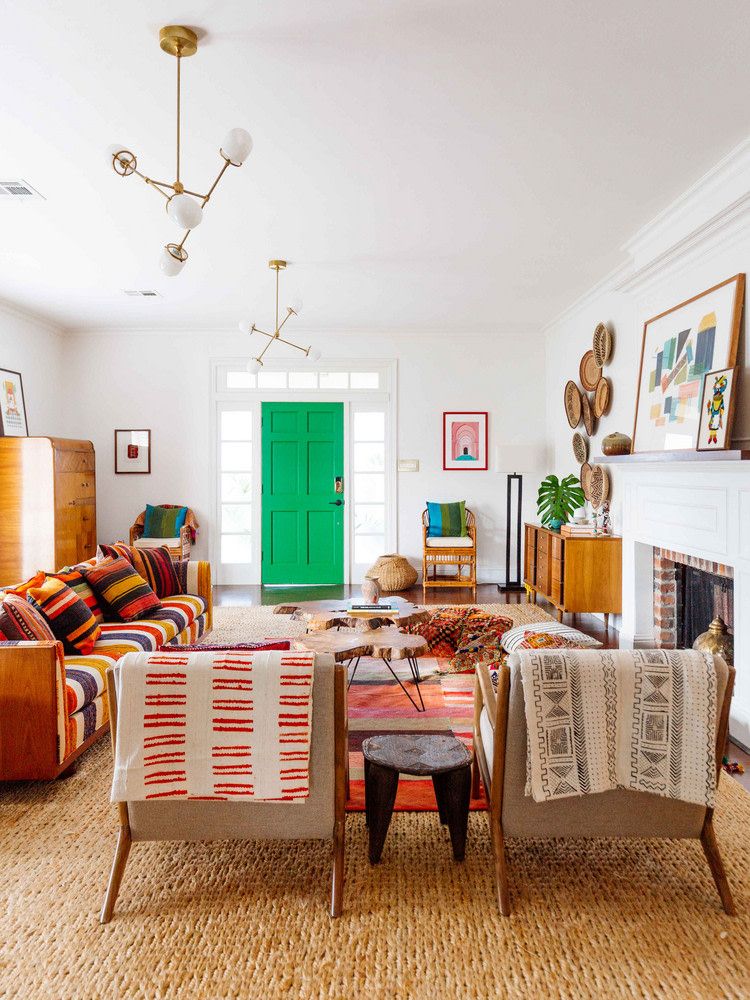 21. Leather Moroccan Poof
A quintessential piece of Boho decor, the leather Moroccan poof is a must-have when decorating your Boho living room! This little round poof is great by itself as decor, or it can be used by someone to sit on when you have extra guests! This one looks great sitting next to the brown wood Moroccan coffee table.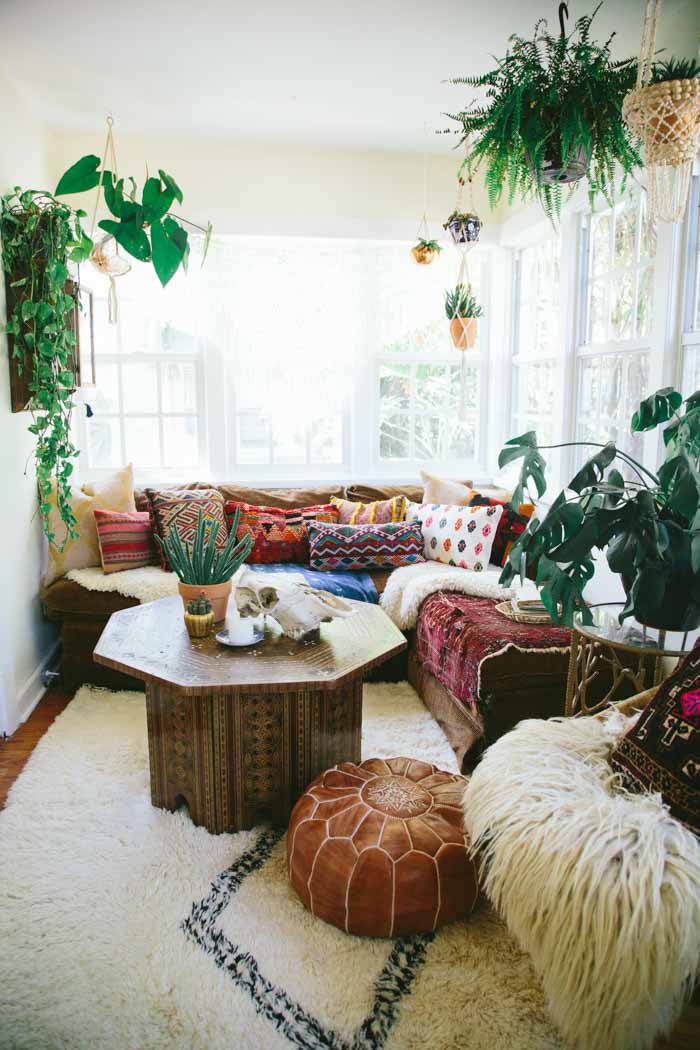 More Bohemian Decor Ideas
I hope this post helped inspire you as you go about curating your perfect Boho living room design. If you love boho style decor, then don't miss our other recent decorating and furniture guides which we have linked below! We have recommended lots of furniture and decorations in this popular decorating style.
Happy curating!