Creating a children's bedroom has to be one of the best renovating challenges there is - you can really let your imagination run riot! But before you get stuck in, there are a few practical things you need to consider. 


Things to consider before designing your kids bedroom


1. How old is the child?

This is an important one. The age of the child you're designing for is going to dictate how you style the space, and what you include. For example, there are practical considerations when planning a baby or infant's rooms - will there be room for a change table? Are all blinds chords out of the way? Where will the nappy bin go? When planning for older children, have a think about what they'll need down the track - is there room for a desk? Where will their toys go? Are you cool with them having a games console or TV in their room? There's a lot to consider.


2. What will the room be used for?

If you're stretched for room in the rest of your house, chances are your child's bedroom will also double as their play space. If this is the case, you'll need to consider how you balance the need for stimulation and free play with a soft, calming environment at bedtime.
"Kids rooms are all about storage," says Jenna Denston (The Block 2011 and All-Stars). "[It's all about] having the ability to be creative and fun during the day and make a complete bomb site, and then at night being able to put everything away and have that peaceful feeling for the kids - and mums and dads as well."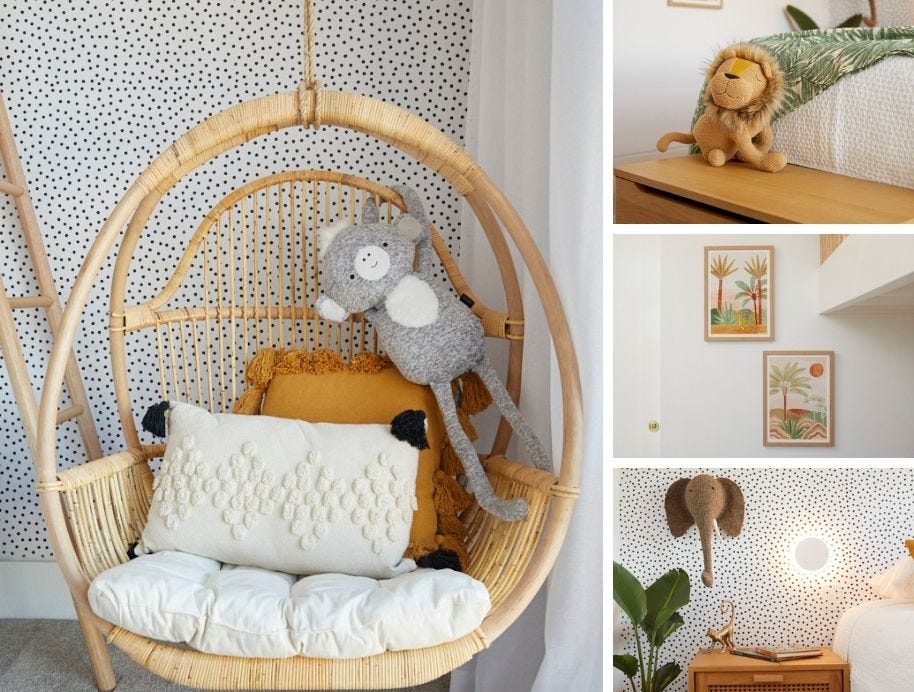 Luke and Jasmin's perfect kid's room on The Block 2020.


3. Will the room grow with the child?

Filling your kid's room full of age-specific play equipment like swings and climbing walls might look great, but you also have to consider that kids grow. And quick! By all means, add those fun inclusions, but make sure they're not permanent fixtures - that way you can easily remove them when your child grows out of that particular play phase.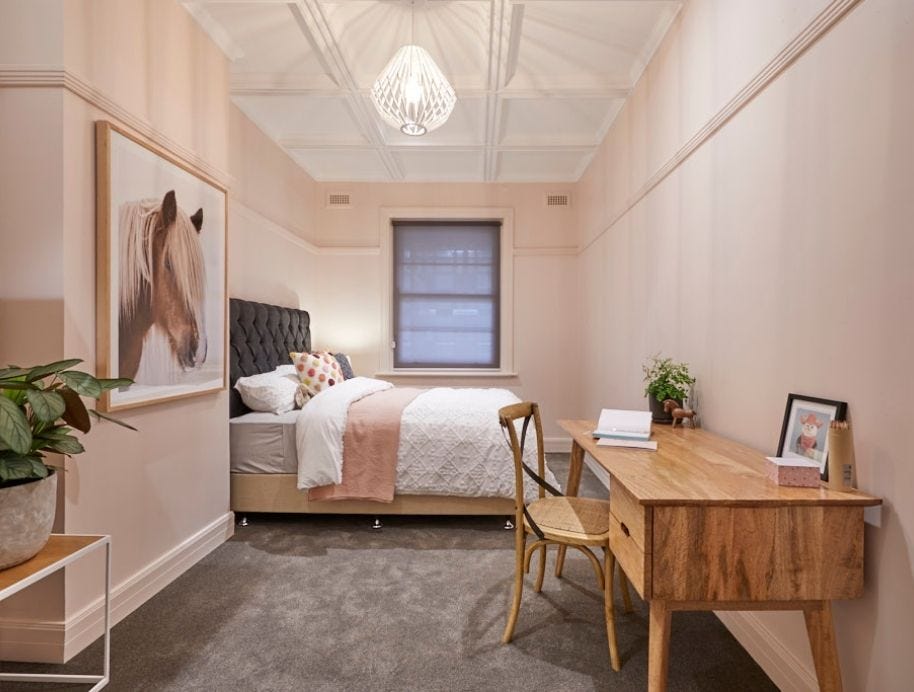 Kerrie and Spence created an incredible tween girls room in The Block 48hour challenge that has the potential to be suitable for many years.


4. Will the room stimulate or relax them?

This is an important one - and one where colour schemes can make or break a space. Bright, bold primary paint colours are attractive to little people, but they're not exactly conducive to rest and relaxation. Think about painting your nursery in neutral tones, providing points of interest for little eyes through interesting artwork or murals. Wall decals are great for children's bedrooms as they can be swapped out and changed as your child grows.


5. Is there enough room for the practicalities?

Having a fun space to play is important for children, but don't let the fun stuff be to the exclusion of the basics. Baby's itty-bitty jumpsuits might not take up much room when they're newbies, but pretty soon you're going to find your little one has accumulated a WHOLE lot of stuff - and you're going to need somewhere to store it. Including built-ins in a new-build or reno means you'll always have a spot to store things out of the way. Trust us - they may look enormous on the plans, but you WILL fill them.



Sarah and George's kid's room had stylish wardrobes for all the practicalities. 


6. Will there be sleepovers?

It might seem a long way off if you've got really little ones at home, but those sleep-over years roll around quick. If you're planning a renovation, and you have room to play with, make sure you add enough room in the floorplan for another little body in the room. Trundle beds stored beneath the child's bed are great, but bunk beds are also good - and a lot of fun for older primary-aged kids. Later, you might want to remove the bed beneath, and build a study area, or 'chill out space' for them. Working that extra room into your floor plans early on gives you room to move.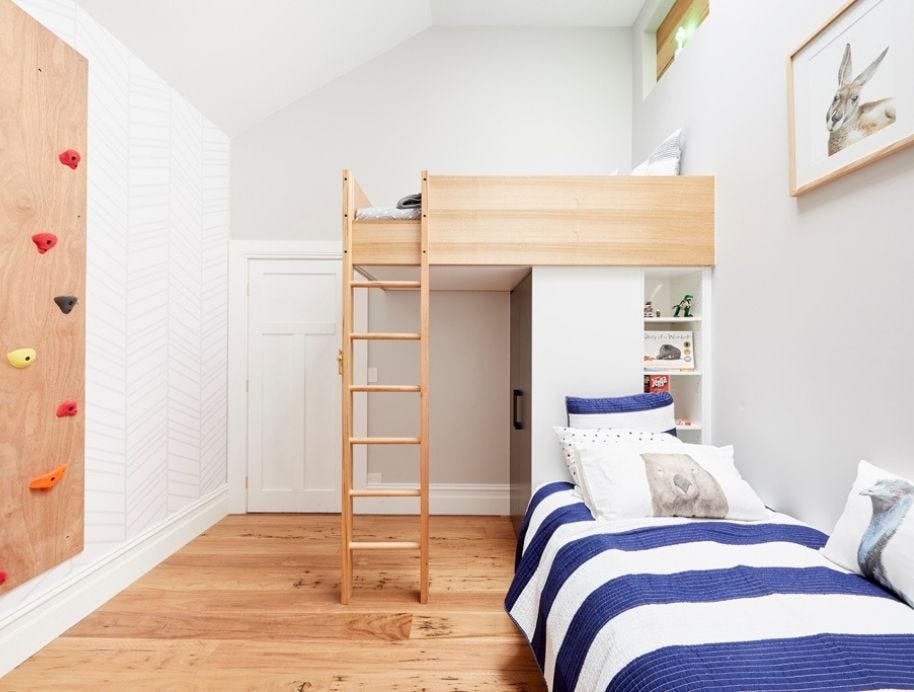 Sticks and Wombat pulled off a fantastic children's bedroom on The Block in 2017. Neale Whitaker loved it calling it 'the stuff of kid's dreams," and we agree!
The Block's resident Design Queen, Shaynna Blaze, to give us her top four tips for creating a room your child will love:


1. Talk to them
I think the best thing to do is to sit down with your kid, and work out what they want. If it's a toddler at two, you can ask them, 'What do you like?' and they can point to things. It's a good way to get started.

2. Artwork should always be on the walls
Maybe that means buying frames and putting their drawings in them from when they are little. Or when they are older, you might put pictures of the movies you've just been to together, that they love. That way it extends the joy of what they've done. I think putting those little connections of who they are, and what they've done in a room can make it special. And that's important - it's not just about worrying about what colour to paint the walls, or what doona cover to put on. It's the little things.
 

3. Listen to their ideas
I think the personality of a kid's room should be about the kid - who they are. That way, they will actually enjoy their room more, because they'll feel like it's theirs. I've had people say to me, 'Yes, but they want black!' And I say, 'Well make it black and put white furniture in! You can still brighten it up.' Get them to help you paint it and they'll feel even more involved.
 
4. Give them their space
Little teepees are lovely for this - it gives them a little cubby house space. But it doesn't even have to be that - you can just use a rug, or a play mat, with some shelving or a storage box next to it where you can put the toys. That becomes their little fun space. Rather than it being the naughty room - it becomes their fun room!

 Sarah and George created a whimsical room on The Block in 2020 featuring a gorgeous teepee.
Article by Insider Style Blog