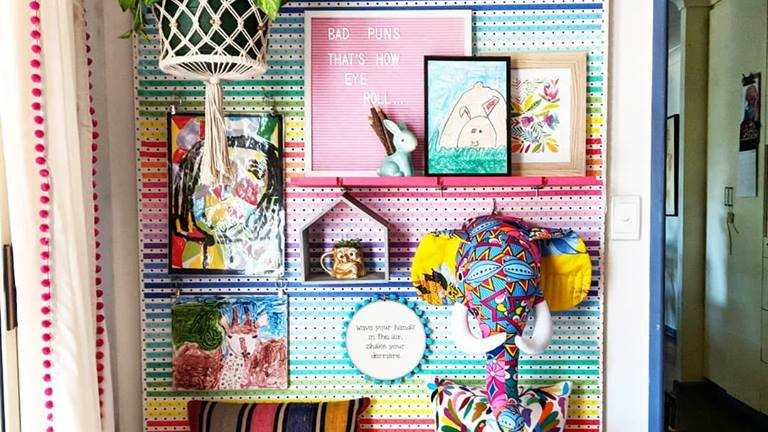 The pegboard decorated with Kmart washi tape. Picture: Instagram: @the.hectic.eclectic
Don't miss out on the headlines from Lifestyle. Followed categories will be added to My News.
Greenmount resident Brandi Love had an old peg board that was bought from Bunnings that she wanted to do up.
"It was kind of just a spur of the moment thing," she said.
"I was in Kmart when I saw a tube of washi tape and thought I could do something cool with that.
"I liked the colours in the tube and wanted to recreate that on the walls, but as I couldn't place it on the walls I thought the pegboard would be the perfect option."
Ms Love, who is a product stylist and home decor Instagrammer with about 59,000 followers, said she got two tubes of the $6 washi tape.
"Overall it took about 45 minutes to get the rainbow effect."
The DIY idea came after Ms Love spent a bit of time thinking about how she could improve her children's playroom.
"I just wanted that wow factor, to brighten this wall up a bit," she said.
To top off the colourful room Ms Love bought a $45 bench seat from Kmart and reupholstered it with a colourful new seat cover.
"The kids love it," she said.
"My eldest, she recently made a butterfly mosaic, so it's great for that craft stuff from school that's too good to put away, so we put it display using the pegboard."
The mum's Instagram post also gained the attention of housing magazine Better Homes and Gardens. 
"I didn't expect to get in Better Homes and Gardens," Ms Love said.
You can follow Ms Love on Instagram @the.hectic.eclectic. 
Article by The Daily Telegraph